Who are we and who are we loooking for
Well-being wins
We are Attack Promotion – advertising agency which makes and provides promotional items and clothes for companies. We are not classic catalogue agency and we are sure we will never be.  We provide our customers with end-to-end service and personal marketing service – we take care of their well-being and make sure everything goes according to plan.
Every day we help people, every day we can make somebody we cooperate with happy. Even though it takes extra effort from each of us, even though it is everyday struggle with deadlines and time, our work fulfils us and we enjoy it. We have a great feeling when we are able to help the customer and remove a thorn in the flesh, and when we see people using our promotional items or wearing T-shirts in our clients´ brand colours, such as Pilsner Urquell, Kofola or O2.
Freedom in persuing objectives
The main principle of our company´s culture is high individual autonomy and performance orientation.
Our salesmen are more of business developers then pen sellers. They respond flexibly to our clients´ requests, customize the offer and take their satisfaction personally.  Those who expect nine-to-five job, assignments from boss and long coffee breaks will be disappointed. It is simply not for everybody. Those who want to earn above-standard money and who understand that it is not possible without results, commitment and flexibility will be satisfied.
Printing and digital technologies
We are innovators and we are not afraid of new things. Promotional items market is heading towards online environment and digital technologies – and we are involved. We created our own e-shop which improves stock management and speed of delivery of promotional items to companies. In our warehouses we have digital printing technologies which can print up to 500 pieces of T-shirts a day. We can respond flexibly and instantly to our customers´ needs. New technologies is the direction we trust.
Vision Days and sport at Hamr
Our people can influence the company´s direction – and we support them in it. Once in three month we all meet in Vision Days where we openly discuss things which work and do not work. Our employees know that work will be the way they do it. We lead them to feel responsible for the company and work environment – and not to be afraid of making a change for better. In Attack there is a number people who do sports and, in this regard, our offices are in an ideal place. Just round the corner there is Sports centre Hamr where we also meet in our events.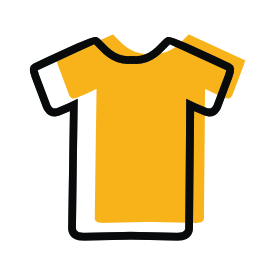 TRIKA.CZ
A few years ago, we were looking for new challenges and at that time we bought the company TRIKATOR.CZ (now the Trika.cz brand), including its developed e-shop. The team in charge of the e-shop brings new trends, lightness and exaggeration to Attack. In this way, they create diversity in the company in terms of strengths and expertise.
Our e-shops also focus on the design and sale of our own products and sportswear. Trika.cz is one of the largest "T-shirt-oriented" e-shops in the Czechia. You can buy (not only) T-shirts with original and funny motifs that respond to current events in culture and sports in the world and in our country.
Trika.cz is an increasingly important direction. Today, we take care of more than 70 partners, with whom we prepare products that you have definitely seen all year round. Some partners can be found directly on the e-shop (Blakkwood Records, JL10, Roman Staša, Pavel Novotny, …). One of the main added benefits of the merchandise is the connection between On demand production and a sustainable approach. One of the new projects is also working with the non-profit sector at Merch for a good cause.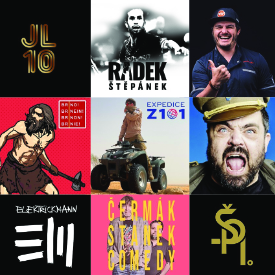 Our team
Martin

Shipping consultant

Prague

Lukáš

Head of Expedition

Prague

Pavel

Owner and CEO

Prague

Matej

Key Account Manager

Prague / Bratislava

Petr

Graphic Designer

Prague

Josef

Marketing Specialist

Prague

Miloš

Key Account Manager

Prague

Štefan

Key Account Manager

Prague

Mr. Muff

Messenger

Prague

Tereza

Receptionist

Prague

Honza

Public procurement specialist

Brno

Marek

Sales Trika.cz

Prague

Olga

Purchase manager

Prague

Andre

Sales manager Europe (CZ, DE, NL, EN)

Prague and Moravia

Jakub

Head of expedition Trika.cz

Prague

Andre

Obchodní zástupce Evropa (CZ, DE, NL, EN)

Praha a Morava

Adéla

Sustainability Manager

Prague

Lucie

Finanční manažer

Praha

Marek

Obchodník Trika.cz

Praha
Join us
Obchodník
Praha, Brno
Full-time
Offices and warehouses in Prague