Deck chair lay back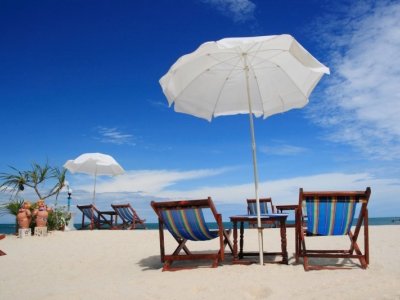 9. 8. 2017 Tipy
Today, almost everyone in the company has couches, otomany and sitting bags. But such deck chairs, where one can shout for a while, stretch out after lunch or, for example, show the brand to clients in style, are just not visible. So why not give style and not belong to those who have their own sunbeds?
Info box:
Nice and Czech
Since not all of our colleagues are crunchy and their beer navels would probably not be able to carry a plastic product from China, we decided to produce Czech-quality deck chairs that will withstand some of the onslaught. After some experience (we will not name a colleague Jose, who would not be able to carry any plastic before his slimming period), our sunbeds are made of a solid wooden structure made of knotless pine. So they are not for decoration, but they can really sit on them.
And when we have their construction tuned, we thought it would be a shame if we didn't perfect the overall look and quality, so that even the fabric on which you will place your revered background will last something, is pleasant and looks good. In addition, it has the advantage that it can be branded in full color using sublimation, so you can have sunbeds exactly as you wish!
Buddies in the office and at every event
If you have the luxury at work and are proud of your terrace or even garden, your employees will rip off your hands for delivering deck chairs. If you don't have such a luxury, don't despair, you can use the deck chairs inside for such an afternoon lunch with a coffee… Of course, with a laptop and we're working!
In addition, these partners will do a great show at each of your events, whether you are planning a party for clients, a barbecue for colleagues or a promotion for a new product.
In summer and winter
One usually imagines a deck chair by the water in the sun and with a drink in hand, but thanks to our impregnable material, our deck chair are ideal for summer and winter events. So if you think that the season when they could be used has already rang, then the opposite is true. It's not over to have a drink at the ski slope and sit comfortably in a sun lounger instead of in the snow.
Donate, lend and promote
Are you often a partner of events, sponsors or do you participate in charities in some projects? In addition to rollups, try another form of advertising this year and send your own chill light zone to the world with branded deck chairs. Whether it is an event for children or adults, bet that they will find their place everywhere.
PS: Sitting is always more comfortable than standing. Doesn't it?